Press'n Seal Fridge Shelves
A tip for keeping your refrigerator clean...line the clean shelves with Saran Wrap or Press'n Seal. If a spill or mess occurs, simply peel the wrap off, throw away the mess, and recover! Keeps my fridge clean! (I was lucky enough to get the Holiday Print Press'n Seal on clearance). Whoop whoop! CUTE!
By the way, I've seen lots of comments about how wasteful this is. Just so you know, I wrote this post in January (It's June now) and I haven't had to change the liners, most spills are taking care of by wiping down the liners with vinegar/water, I only remove liners when there is a SERIOUSLY sticky nasty spill which is very rare. =) And I use clear press'n seal but the patterned showed up better in the picture so you could actually see it for the tutorial.
If you're having trouble adhering the press'n seal, make sure you shelves are the glass shelves (not grates) and wash and dry them first. Sometimes if you let them come to room temp first (one shelve at a time), it makes it easier. Also, saran wrap works if you'd rather try that. I've also read that some people use plastic placemats or newspapers- even cookie sheets to line their shelves. All great ideas!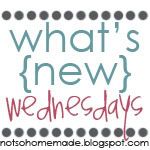 Featured here as the Pin of the Day!